The amount of frustration I have seeing tacky business cards handed out in Japan is numerous. I understand the costs associated with higher-quality cards, but as a business starting out, a solid calling card goes a long way.
As it's your first piece of marketing material. Make your business card count.It's an investment like building a website and creating content. Your Japanese leads will notice the difference.
Now to give your cards that extra pop I'll give the basics of print finishes for your next order.
Gloss UV
It's a process that applies the entire printed material with a shiny coating that can be often seen on magazine covers. This varnish can protect the paper's surface from moisture and other types of damage such as dirt.
A business card with a glossy appearance can deepen the color of your words, material, and image.
Spot UV Varnish
While it's almost identical to gloss UV coating, only parts of the card will be coated. It's all up to you what you want in terms of design.
Matte Lamination
Currently a very popular lamination choice for many industries. Did you know that all of Apple's packaging combines matte lamination and foil stamping? It's a less shiny finish, but sometimes simple is best.
Silk Lamination
A thin plastic film is chemically fused to the surface of the card. It is not only water and tear resistant, but leaves a nice look and feel with a bit of thickness to it. If you're planning to print your cards digitally, this is a good option to go, but if you want to save a bit of money, do offset printing and choose matte lamination as a similar alternative.
Embossing
This process will add a new dimension to your card. If you want your card to "pop", it doesn't get any more literal than this.
When paired with spot UV coating and matte lamination, you can end up with a very sleek-looking business card.
Foil Stamping
A once labor intensive printing process reserved for book covers, foil stamping uses a metal film to imprint on either a font or design. Resulting in a very classy look not often seen in many business cards, but common with special occasions.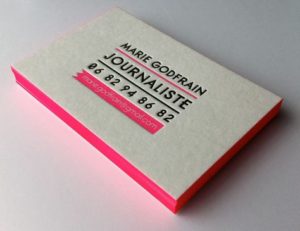 Letterpress
Similar to embossing except it's a deep indent pressed onto your card. While Letterpress is a more expensive printing process, the quality speaks for itself.
This old school process has made a comeback in recent years with wedding invitations and business cards. If you're working in the creative field, I personally recommend letterpressed business cards.
For The Budget-Conscious Shopper …
..We got you covered. You can choose for your card to have a white font type selected with a bright-colored paper, or have white paper flooded in the color of your choosing.
Which leaves just enough oomph to stand out but not enough to break the bank.
---
Do you need some new business cards? Let our staff know today. Contact us for a free consultation